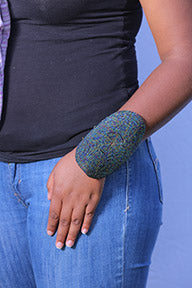 Cuff Bracelet: Bold and Fearless Statement Maker
As jewelry has evolved throughout history, the cuff bracelet prevails as the ultimate power accessory. It exudes boldness, confidence, and a dashing style. Worn to your liking--it is a timeless piece. Traditionally cuff bracelets have been worn as a status symbol or a talisman for protection.
For example, Kenya's Maasai and Turkana tribes are renowned for their beautiful and exceptional craftsmanship. Their beaded cuff bracelets are an exhibition of culture, tradition, status, and community.
 The cuff bracelet is a statement maker for the fearless and unapologetic.